This primary election season, we focused on districts in SWPA with competitive races. We reached out to candidates through email and social media to gather responses. Below is our the May 2023 Primary Election Candidate Scorecards.
On May 16th, Pennsylvania voters across the Commonwealth are choosing judicial candidates and legislators who will make consequential decisions and policies about how we live our lives including affordable housing, safety, elections, school funding, accessibility and livability. These positions have tremendous power over people's lives and livelihoods. Below is how candidates fared this cycle. Please note we only reach out to candidates in contested races during the primary.
Organizationally we focus on: criminal justice reform, affordable housing, environmental justice, voting rights and other issues impacting Black Pennsylvanian and Working Class People throughout the Commonwealth.
Please Note No Response indicates the candidates did not submit answers by the deadline or respond to requests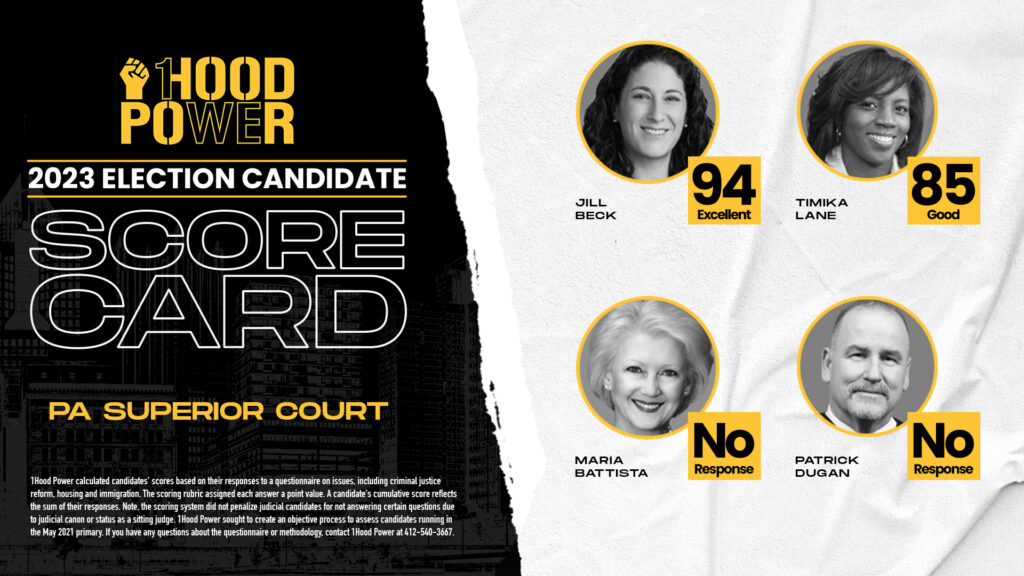 Scoring: Scoring is the result of the average score of staff, volunteers, and contractors. Each candidate receives an individualized rating and those score are tallied and averaged. No judicial candidate is penalized for not answering a question they reasonably believe will come before them in the court of law.