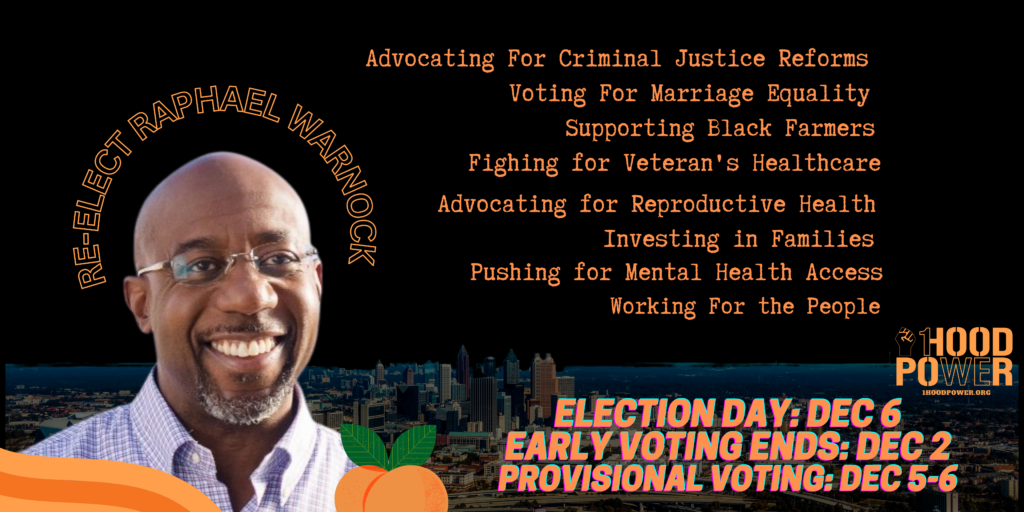 The mission of 1hood power is to build liberated communities through the use of electoral organizing.
The south comprises one of the largest swaths of Black and Brown voters who have been impacted by voter suppression, disinvestment, and over-policing.  It is here in Georgia that the right to vote has been under attack, and it is here in Georgia where thousands of people are organizing and fighting for a better tomorrow.  Sen Warnock is one of those people.  
Sen Warnock has fought tirelessly for the people of Georgia with legislation to support agriculture advancements, health care for pregnant people, and investments in infrastructure and innovation to get people back to work. He has worked tirelessly as a son of Georgia
He has voted to ensure veterans get the healthcare they deserve despite opposition from the Conservative Party.  Warnock is from Georgia and has used his platform to advocate for Georgians, no matter their political affiliation.  His loyalty is to the people of Georgia, not a personal benefactor. 
One more time Georgia. We are asking you to make a voting plan and re-elect Raphael Warnock.
Find your polling place https://mvp.sos.ga.gov/s/
Early voting ends December 2nd.
Provisional voting is December 5-6th.
Election Day is December 6th.